During Sotheby's annual January Royal and Noble collection sale, US reality TV star Kim Kardashian bought the diamond and amethyst Attallah Cross necklace, previously worn by Diana, Princess of Wales.
The pendant, which weighs 5.25 carats, was sold for US$197,453 (£160,000) – almost double the pre-auction estimate.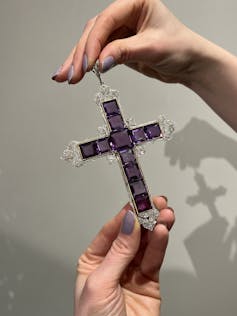 The diamond and sapphire encrusted pendant was originally designed in the 1920s by the court jeweller, Garrard, and later became part of the collection of Naim Attallah, a Palestinian-British businessman and writer. Attallah was the former chief executive of brands at Asprey and Garrard and a friend of Diana.
The necklace's legacy and association with Diana, have secured its place in fashion's rich history. That it has become a part of Kardashian's collection is a reminder of the power of celebrity in driving economic value.
How an association with the more transient celebrity of the social media age will impact the longevity of fashion memorabilia is less certain.
Celebrity sells
The Attallah cross is an addition to Kim Kardashian's growing collection of celebrity memorabilia – items representative of fashion and popular culture's diverse history.
Kardashian has previously bought a jacket worn by Michael Jackson for her daughter North and one of only two Alexander McQueen oyster dresses in existence, which she altered in order to wear it to the 2020 Vanity Fair Oscars party. The garment was described by Andrew Bolton, curator of the Metropolitan Museum of Art, as "arguably the most important dress of the 21st century".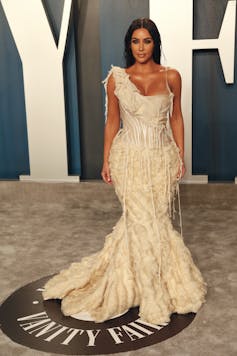 Kardashian also famously wore Marilyn Monroe's JFK birthday dress to the Met Gala in 2022. The move caused controversy over both the dramatic weight loss she underwent to fit into the dress and the alleged subsequent damage to the garment.
Mass media representation has fuelled society's fascination with celebrity. When a famous person dies, this can intensify, which may explain Kardashian's drive to own these iconic items.
The trade in celebrity-owned fashion items isn't limited to extraordinary pieces like the Attallah cross. In 2013, a false nail worn by Lady Gaga was sold for US$12,000.
More recently, in 2022, a battered pair of Birkenstock sandals which had been worn by Steve Jobs when he first started Apple were sold to an anonymous bidder for US$218,750.
Association with specific celebrities has invested these objects with a value that is both economic and cultural. Kardashian has not just purchased Diana's physical necklace – she has bought its emotive story.
Why fashion objects matter
Academics working in the discipline of material culture (which comes from the field of anthropology) focus their research on understanding society through people's relationships with objects.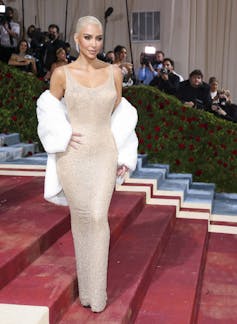 This includes examining what makes people buy the things they do and how those objects bring meaning to their lives.
Recognising that fashion objects have deeper meanings both individually and culturally explains why celebrity-owned objects take on a combined personal, cultural and economic value.
Why is Kim Kardashian buying celebrity memorabilia?
Kardashian is a celebrity of the social media age. Her adoption of trends and endorsement of fast fashion brands makes her relatable to the masses. And she has also shared her values, represented through the causes that are important to her including criminal justice reform, gun safety and cancer causes on both her social media pages and television show, Keeping Up With the Kardashians.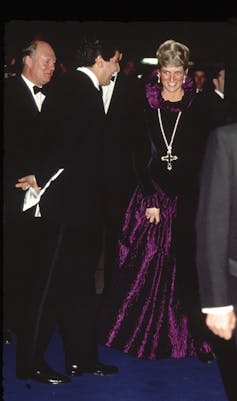 Social media has shifted the cult of celebrity from the more detached celebrity of the pre-digital age towards the consumable persona where the boundaries between the private and the public are in constant tension. Kardashian's over-exposure suggests her celebrity may have become too accessible, compromising her longer-term cultural value.
Jewellery worn by Diana rarely comes up for sale. For Kardashian to own something so unique and exclusive – with its significant history – may represent an effort to move her positioning away from the superficiality of the Instagram age.
Kardashian has invested in an object that has a cultural history, worn by an iconic woman, and in so doing she has become part of that story. Purchasing rare celebrity memorabilia integrates Kardashian into a different realm of culture, which is exclusive rather than accessible.
Diana's pendant has become an integral part of fashion history, not just because of its design, but because of the celebrities who have owned it.