The investigation into the Beirut port explosion has taken a new turn, with the judge overseeing the probe charging a former prime minister and two other former ministers with homicide with probable intent.
The explosion in August 2020, which happened in a massive silo in the port of Beirut containing a large amount of the fertiliser ammonium nitrate which had been stored there since 2014, killed 218 people and devastated parts of the city. An investigation was quickly set up, but has been plagued with delays and difficulties.
The judge's decision to lay fresh charges comes after the investigation had been stalled for over a year following a succession of lawsuits from politicians already indicted. But the presiding judge, Tarek Bitar, reopened the inquiry unexpectedly this week, defying the wishes of the public prosecutor.
The importance of this move is potentially enormous. Indicting Hassan Diab – prime minister at the time of the blast – sends a powerful signal that Lebanon's political elites are no longer exempt from justice. The charge against Diab relates to claims that while as prime minister he ignored warnings that the ammonium nitrate represented a major danger to the city.
Lawless disorder
Lebanon's postwar order seems to rest on political leaders remaining unaccountable for wrongdoing or incompetence. The case of the still ongoing investigation into the assassination of former prime minister Rafiq Hariri in 2005 is a prime example of justice frustrated at every turn. Despite a long-running UN special tribunal into the assassination of Hariri, only two people have been found guilty – in absentia, because Hezbollah refuses to hand them over to justice. This after 17 years of investigation.
Pursuing accountability for Lebanon's political leaders is fraught with difficulties. Lebanon's culture of impunity stems from the aftermath of the country's civil war (1975-1990).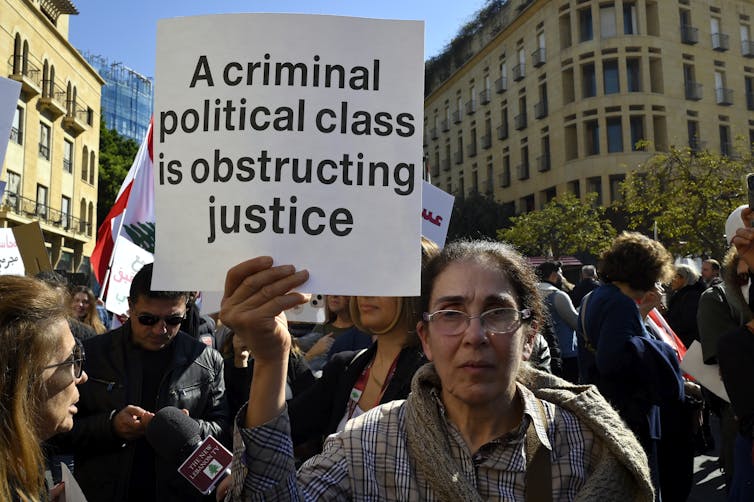 Many of the warlords responsible for violence have reinvented themselves as political leaders. In 1991, recognising they would be first to be prosecuted for war crimes, Lebanon's political leaders passed a general amnesty law, which pardoned political crimes committed during the civil war.
Some politicians have claimed immunity from prosecution over the port explosion by citing the amnesty law. Lebanon's parliamentarians have even sought to extend the amnesty law to prosecutions for corruption.
Lebanon's power-sharing government meanwhile, which guarantees the representation of all the main sectarian factions, provides a further cloak for political leaders to evade accountability. Leaders can use their veto powers to stall and dead-end policies and claims for justice they disagree with.
Frustrating justice
Attempts to enforce justice are frustrated by a range of tactics. Political factions regularly interfere in Lebanon's judicial system to slow or close down investigations. Those seeking justice, such as victims from the civil war, are either told to shut up or are menaced into silence. Reports indicate that Bitar has been under military protection, such is the risk of his assassination.
Bitar's investigation has provoked anger from Hezbollah, the hybrid militia and political party with strong links to Iran. Hezbollah accuses Bitar of leading a politically biased campaign to lay blame for the port explosion at Hezbollah's door.
In 2021, a high-ranking Hezbollah official threatened to "usurp" Bitar, a statement seen as a warning shot that they will do all they can to remove Bitar from leading the investigation. Hezbollah and its political allies in parliament have lobbied to remove Bitar from the investigation and have it instead vested in a judicial council – which activists have reportedly claimed would be easily influenced by the accused.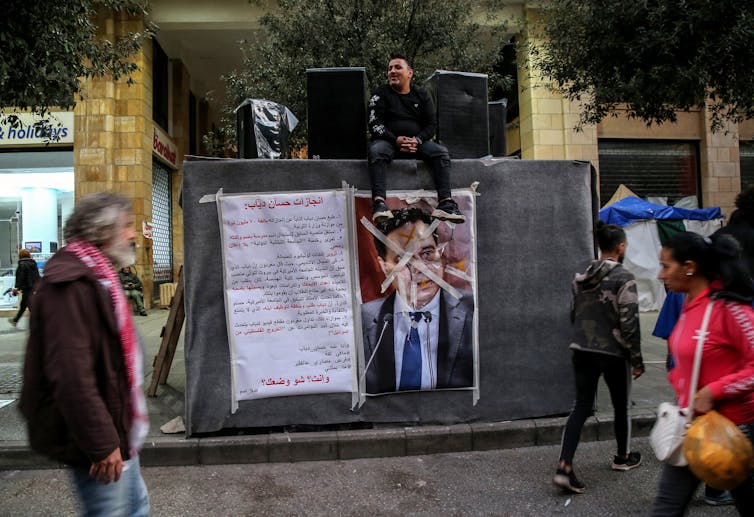 The homicide with probable intent charge levelled against Diab will raise the stakes with Hezbollah. Although Diab claims to be an independent, support for his premiership largely came from the Hezbollah controlled bloc in parliament. It is expected that Hezbollah will respond to the recent charges, though no statement has as yet been issued by the party.
There is no evidence to back Hezbollah's claim that Bitar is biased. While he comes from Lebanon's Christian community, which was affected by the port explosion, he is widely seen by the population as a straight shooter, above the fray of sectarian factionalism. Victims of the port explosion view Bitar as their main chance for justice, while many citizens hope that the investigation will finally open the door to greater accountability from the ruling class.
Accountability at last?
The question now is whether Bitar's latest charges have any chance of leading to prosecutions. Without speculating on the evidence that Bitar has gathered, the broader political context does not provide grounds for optimism. It appears that Bitar is flying solo. None of the groups or alliances in parliament supportive of Bitar's investigation are sufficiently powerful to ensure the investigation will remain open.
Even some of his supporters, mostly drawn from the leadership of some of Lebanon's Christian parties and leaders, are wary of the consequences of an investigation that leads to justice for victims and punishment for corruption. Meanwhile his opponents – notably Hezbollah – have the political heft to create numerous obstacles to slow down or shelve the investigation.
Bitar may hope that his investigation will be bolstered by support from the international community. His intervention follows recent meetings with French judges conducting an independent investigation into the deaths of two French nationals in the port explosion.
France, a former colonial power in the region, continues to see Lebanon as a key foreign policy concern. It is unclear at this point whether the French investigation has provided new evidence or broad support for Bitar's investigation.
But most importantly, the investigation is a major test of whether Lebanon's culture of impunity will endure. A great deal hangs on this case.