Jamila*, a widow living in Herat, lost her husband in a suicide attack about eight years ago. She has an 18-year-old daughter who is blind and a 20-year-old son who lost both legs in a mine blast.
Jamila used to be a housemaid and bake bread for people in their homes. With this income she was able to feed her daughter and son, according to research carried out by Ahmad*, a former lecturer at the University of Herat and shared with me.
Since the Taliban gained control of the country, Afghanistan has been on the brink of universal hardship. As many as 97% of people are now estimated to be living in poverty, up from 72% in 2018.
The recent Taliban ban on women working in international and national organisations and women moving about public spaces has also affected women being able to find employment.
Because of the current situation Jamila has lost her clients and is now struggling to cope. She could not pay her rent and the landlord asked her to leave her home. She now lives in a small room that a kind family gave her in their yard. She has no source of income.
Previously about 10% of educated women in Afghanistan worked in national or international organisations to support their children. If less educated, they had a range of formal and informal jobs including working as housemaids, baking bread, washing clothes, cleaning bathrooms and babysitting, and in rural communities rearing small livestock and growing wheat, maize and vegetables.
Jamila said that previously under the former government her family received a monthly salary from the state ministry of martyrs and disabled affairs, which pays families of military veterans or those killed in the fighting, and that gave them enough money for bread.
The new government (the Taliban) has now stopped this salary … they don't believe our lost ones are martyrs.

My son also had a job with the municipality office in a city parking lot, taking care of vehicles and collecting money from people parking their vehicles there. There were many handicapped people doing this kind of job. But now all of them, including my son, have lost their jobs.

The Taliban has appointed their own personnel in these parking areas. We have very few options left. A neighbour now drops my son near a bridge in the city where he begs people to help him with coins. He brings him back here in the evening. With the coins he brings, we can get only bread to survive until the next day.
Jamila is not an exception. She is one of thousands of women who have lost their jobs as a result of the new decrees. Many are acutely malnourished and don't know where their next meal is coming from.
Single women and widows have practically no way of earning money. On-the-ground reports reveal that many households are supported by women as male members of their family were either killed or injured in the ongoing conflict.
It is not just food, but also shelter, water, fuel and warmth that contribute to survival, especially in bitterly cold temperatures. Ahmad, the former lecturer in Afghanistan, said:
Since COVID-19, my wife and I have tried to raise funds from friends to help poor families (especially widows). Very cold weather has been forecast for the western zone of Afghanistan in February.

There has been snow and the temperature has dipped to -25℃ at night early in 2023. One of my friends, who is in the US, helped us with some money locally to buy charcoal to help poor widows like Jamila cook food and warm up their rooms. My wife is also very frustrated and helpless in the current situation.

But, the plight of women-headed households, lacking adult males, is especially dire. In the absence of any social connection, they are increasingly food insecure, with few options to feed and care for their children.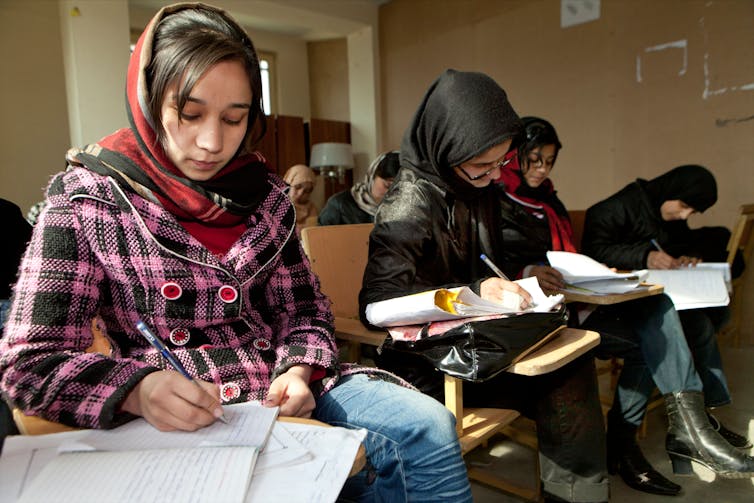 This follows Taliban decrees banning women from education at the secondary and university level and not allowing them to travel without a mahram (male close relative as chaperone). The Taliban also ordered the closure of all beauty salons, public bathrooms, and sports centres for women, important sectors of employment for women.
Overall, the dire situation in Afghanistan has increased the incidence of extreme hunger and malnutrition for both men and women, but women without husbands are being pushed into even more extreme poverty.
---
Read more: The Taliban shifts tactics in its determination to control and oppress women
---
According to UN resident and humanitarian coordinator Ramiz Alakbarov, "a staggering 95% of Afghans are not getting enough to eat, with that number rising to almost 100% in female-headed households".
The January 2023 high-level UN delegation led by Deputy Secretary-General Amina Mohammed called on the Taliban authorities to reverse the various decrees limiting women's and girl's rights for the sake of peace and sustainable development. While the backlash against women's rights needs to be urgently addressed, the crisis of food and nutrition security facing single women, widows and separated women, is not being recognised by many outside the country.
According to the 2015 Demographic Health Survey, only 1.7% of Afghan households were headed by women. The January 2022 report from the UN World Food Programme places this at 4%.
As a former employee of the Afghanistan Central Statistical Organisation, responsible for population data collection in four districts of Bamiyan province, told us: "It is very difficult to collect accurate population data." She said that previous data concerning women-headed households was now likely to be invalid.
While women's rights are under attack in Afghanistan, the full effect of the ban on women's work and mobility on single women, widows and separated women, is yet to be fully recognised. While appeals for help to the United Nations by teachers, professionals and civil society activists are rising by the day, negotiations are not progressing, and the delivery of humanitarian assistance is becoming increasingly challenging.
It's difficult to estimate how long local communities, themselves struggling to survive, can keep women-led households and their families alive.
**All names in this article have been changed for security reasons